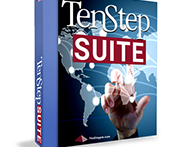 You pay a very competitive up-front license fee
for your entire organization (or a monthly subscription fee).
WATCH A Video NOW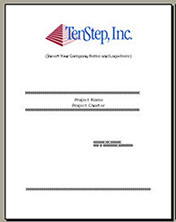 Hundreds of Templates
Having a set of templates is one of the best ways to save time on your project. Why spend your valuable time creating these templates from scratch? The TenStep Suite contains over 80 pre-built templates! All of the templates are easily customizable to be used on all of your projects.
Individual licensees receive access to the TenStep Member Template Library and Basic Template Library. Click here to see the templates that are included in these libraries.
"The TenStep suite of products allowed us to jumpstart our process and training development. Compared to a similar initiative we took on a few years back, we found that this approach literally saved us over $75,000 in process and training plan development, cut 12 months out of the process, and allowed our staff to focus on refining existing processes instead of developing them from scratch." - Consulting manager for large international firm
"TenStep has made a huge difference here during the last 11 months. The templates and case studies have been especially helpful." - Earle K.
"The website is great, the templates are very useful." - David N.
Techniques for Every Process
TenStep does more than just list and describe the processes needed to successfully manage a project - the Suite contains proven techniques that you can put to use on your project! This is not a one-size-fits-all approach. With TenStep, you can easily choose the techniques that will be best to implement on your particular project based on it's size and circumstances.
Process Models
Easily work through the TenStep Project Management Process using our extremely useful process models. These flowcharts are ready to use as-is and conveniently implanted in jpeg format into the online TenStep methodology. In addition to that, when you license the TenStep Integrated Project Management Suite, you receive access to our process models in their original Visio formats. This allows you to conveniently tailor the flowcharts to fit your organization's needs.
Over 60 Audio e-Learning Sessions
The TenStep Suite supplements its hundreds of pages of content with audio e-learning sessions. Each e-learning session is just 20 minutes long, which is a perfect length of time for viewing with maximum learning benefit.
These easy-to-follow sessions are available to download or to view directly online - whichever method is more convenient for you! The sessions are also mapped to the TenStep Project Management Process, allowing you to easily find the sessions that are applicable to you at any point.
Click here for a list of all e-learning sessions included in the TenStep Integrated Project Management Suite.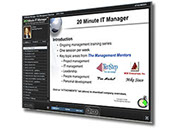 TenStep has all you need for project success. It is more than a methodology. It is the ultimate combination of solid project management processes and supporting content - all in one product!
Basic TenStep view shows the methodology by project management process
TenStep process view (PV) shows the methodology by process group

"The TenStep Process brings with it an established credibility for a widely applied methodology with a track record for success. The ability to provide senior management with a readily accessible benchmark for a comprehensive project management approach significantly reduced the "persuasion step" in how best to manage the effort."
Full World-Class Project Management Processes
The TenStep Suite is a flexible and scalable methodology for managing work as a project. The basic philosophy is "large methodology for large projects, small methodology for small projects™". TenStep shows you what you need to know to manage projects of all size.
Not surprisingly, the TenStep Project Management Process is divided into ten steps – the first two for definition and planning, and the next eight for managing and controlling the work. These steps are as follows:
Initiate
Plan
1.0 Define the Work


2.0 Build the Schedule and Budget
Manage
3.0 Manage the Schedule and Budget


4.0 Manage Issues


5.0 Manage Scope


6.0 Manage Communication


7.0 Manage Risk


8.0 Manage HR


9.0 Manage Quality and Metrics


10.0 Manage Procurement
Close
Just make one click to view the same content arranged in process group
view (initiate, plan, execute, monitor/control, close).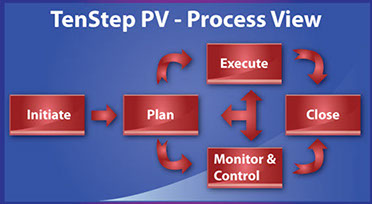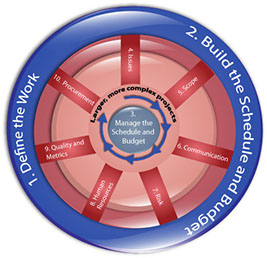 Methodology and more ... it's all here!
Full e-Classes Eligible for PDUs
The TenStep Suite includes a number of full e-classes. This is an amazing deal! These e-classes usually sell for hundreds of dollars per person, but they are included in this package for so much less!
Another great bonus - these e-classes are eligible for PDUs! This is fantastic for PMPs in your organization to keep up their certification on their own time without having to pay money to attend an outside public class.
The following e-classes are included:
Effectively Managing Small Projects
The Essence of Project Management
Fundamentals of Scheduling
Project Management...for Managers


...More
Multiple e-Books
The TenStep Integrated Project Management Suite includes e-books conveniently available for download for all licensed users.
TenStep Project Management Process - Get all of the content in the TenStep Process in a convenient e-book format that is available for download right to your computer!
Lessons in Project Management - Welcome to Dickens, Illinois with Tom and Jeff Mochal as they discuss a year in the life of a project management coach. This book highlights 50 essential project management lessons in a unique format that is unlike any other book on the market.
Lessons in People Management - Come back to Dickens, Illinois with Tom and Jeff Mochal as they discuss a year in the life of a people management coach. This book highlights 50 essential people management lessons in a unique format that is unlike any other book on the market.
License the TenStep Project Management Integrated Suite Now!
Few organizations view the creation, update and maintenance of a project management methodology as one of their core business competencies. Using the TenStep process allows your company to outsource the creation and ongoing maintenance of a methodology, freeing up your people to work on providing value to your clients. Licensing of the TenStep process is also much less expensive than having internal resources build and maintain an internal project management methodology for your organization.
"Not quite a year into our overall PMO implementation, we already have a very scalable, documented, and easily-trainable project management software platform in place - supported by a world-renown methodology that has been customized to fit [our organization's] culture and our specific PMO approach."
- Ken F.
License the TenStep Project Management Integrated Suite for your company or organization. The TenStep process will help everyone in your organization manage projects more effectively!
Shorter learning curve as team members go from project to project
Easy-to-follow processes for new and experienced project managers
Scalable processes to meet your large and small project needs
Consistent processes and templates throughout your organization
$$$ - Much less expensive than developing a project management process on your own
Would you like to recommend TenStep at your organization? We have created a proposal to make it easy!


Join the thousands of people who are already using the TenStep Project Management Process.
Call us at 1.877.536.8434 anytime to discuss how the TenStep Integrated Project Management Suite can help you. We would love to talk to you!


Email questions directly to info@TenStep.com.
FREE TRIAL
BUY NOW
Copyright © TenStep, Inc. 181 Waterman Street, Marietta, GA 30060 Phone: (877) 536-8434 or (770) 795-9097