Individual License
Buy Now
This license covers you and projects that you personally manage. Licenses for the TenStep Project Management Suite are just $249 for the first year. After that, you can renew your license for just $99 each year! Click here to review the individual license agreement.
Please fill out the following information to register.
After completing the form you will be taken to the shopping page to purchase.
Company License
Request Quote
With a TenStep company license, you pay a very competitive up-front license fee for your entire organization.
We need to ask you a few questions to provide the correct license price. Please complete the form below and we will contact you with license pricing for your organization.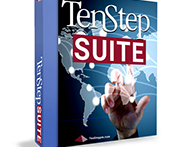 Purchase today to successfully manage projects of all kinds.

Copyright © TenStep, Inc. 181 Waterman Street, Marietta, GA 30060 Phone: (877) 536-8434 or (770) 795-9097